Co-location services to Ensure the lowest latency route possible and provide advanced infrastructure that meets the requirements of capital market participants
The Saudi Tadawul Group, through its advanced technology solutions company WAMID, introduced the co-location service will provide the market an opportunity to co-locate their servers and equipment within our Tier IV Data Center allowing them to have LAN connectivity access to our trading engine. This service targets both trading and non-trading customers, enabling them to reduce their latency as well as architecture complexity by utilizing high density cabinets. This innovative, unique co-location service will support customers in implementing their data, trading and execution strategies efficiently and swiftly.
With our co-location services, round-trip network latency has reduced drastically.
By utilizing WAMID's co-location services and renting space within our Tier IV Data Center, clients can have multiple benefits including:
Provide advanced infrastructure that meets sophisticated trading participant's requirements
Unlock high speed connectivity for users
Ensure the lowest latency route possible

Stock exchanges, by nature of their function, need to be at the forefront of technology and automation. Provision of timely, accurate market information and resulting of swift response is crucial for all market participants; split-second latencies can lead to missed opportunities, especially in high-frequency trading (HFT) or market-making. In markets similar to the Saudi capital market, only 11% of trading is carried out via automated systems.
Co-location Service Offering Timeline:
WAMID's Hosting and Co-location Services Offering was Rolled out in 3 Phases.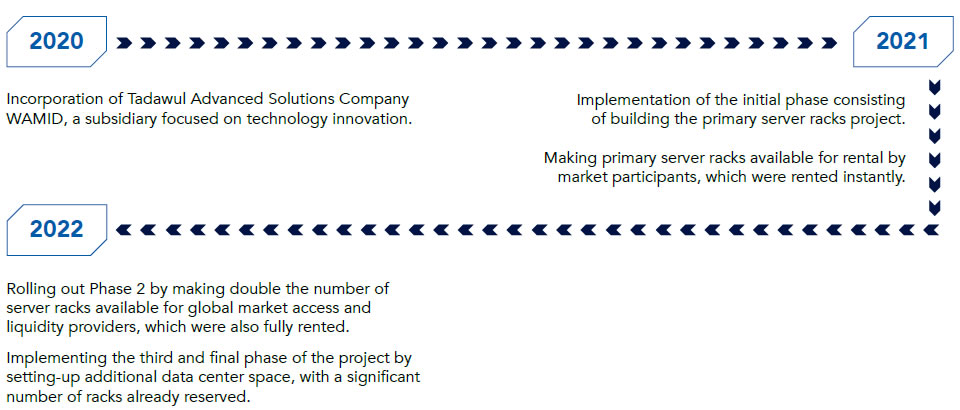 Co-location Services Overview
Racks Rental
Full, standard 48U server racks with standard patch panels and power modules are rented to clients, with mechanical locks or card reader locks provided for each rack.
Power and Cooling
Each rack has a baseline power of 5kW with all power connections backed by UPS and generators in the event of power grid failures. Power requirements above 5kW require additional rental space.
Connectivity
Three main types of stable, dedicated connectivity are offered to the co-located clients; a reliable and secure connection to the trading services network (TSN) with 1G redundant ports for connectivity, additional links between racks, and cross connect (XCN) to provide physical cross connections to external telecom service providers.
Timing Services
Ability to subscribe to the time synchronization service offering Network Time Protocol (NTP). Other support services such as equipment receiving and shipping would also be provided based on client requests.
Conclusion
The launch of our hosting and co-location services, and the advancement of the Saudi capital market infrastructure to a more sophisticated level of maturity has been an instant success. Whether it is algorithmic trading, high frequency strategies or low latency connectivity, all are resultant of advancements in technology that has made the Saudi capital market become notably more liquid and high performing in the recent years. WAMID will continue in its ambition to innovate and advance the Saudi Exchange, and help market players and market makers address real-world challenges and to unlock the power of data and technology in the Saudi capital market.