We firmly believe that working towards sustainability is not only the right thing to do, but also creates business benefits and competitive advantages. We aim to accelerate the achievement of our ambition to be among the world's top three exchange groups through:
ACHIEVING WORLD-CLASS ENVIRONMENTAL, SOCIAL AND GOVERNANCE (ESG) PERFORMANCE
WORKING WITH OUR ISSUERS TO ADOPT ESG MANAGEMENT
ACCELERATING THE MARKET SHIFT TOWARDS SUSTAINABILITY THROUGH AN EXPANDING RANGE OF OUR ESG/SUSTAINABILITY-SERVICES AND PRODUCTS
We integrate this three-tiered approach into key areas of responsibility, which reflect the importance of these opportunities in ESG practices at the Group level: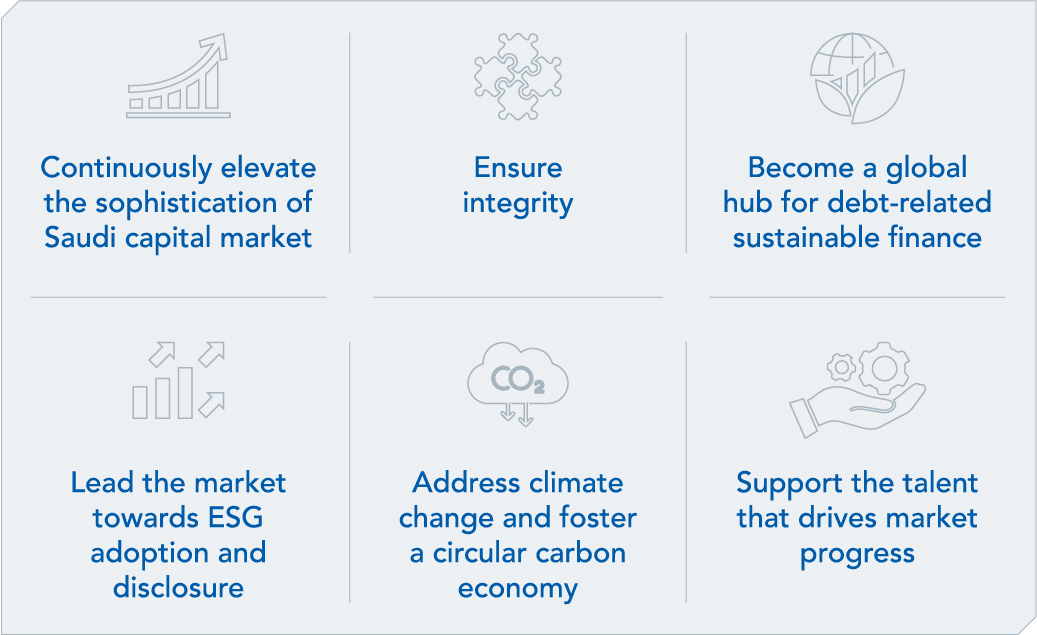 | | |
| --- | --- |
| | Our core contribution to the Saudi Vision 2030 is the transformation of Saudi capital markets in line with the Financial Sector Development Program (FSDP). We will continue to invest in and develop the infrastructure required for world-class sophisticated market. We will also continue to aggressively work to achieve the growth ambitions relating to private sector participation in the markets, the growing participation of smaller and medium size companies in our parallel market Nomu, and further success at attracting foreign investment, among other objectives. |
| | We will continue to govern the Group with achieving best practices through compliance and governance standards. |
| | As the Saudi capital market becomes a local, regional and global hub in debt capital markets, we recognize that debt finance should increasingly incorporate sustainability – including climate – considerations. We therefore aim to enhance and accelerate the Group's debt capital market offering and global attractiveness by advocating and supporting sustainable finance issuances, such as green bonds and Sukuks, sustainability-linked bonds and Sukuks, transition finance issuances, and others. |
| | Given our belief that strong ESG performance contributes to improved corporate performance, we will accelerate our efforts to encourage widespread adoption of sustainability management and ESG disclosures by Saudi listed companies. This will increase the overall attractiveness and financial performance of the Saudi Capital Market. |
| | Achieving a Net Zero, circular carbon economy in line with the world's climate targets is a global priority. For this latter objective, in 2022 we launched the Regional Voluntary Carbon Market Company as a joint venture with PIF (20% ownership by the Group). |
| | The transformation is currently in progress can only be maintained and accelerated through the caliber of our national talent. As we are a global leader amongst exchanges in terms of the level of training investment in our people. We have an ambitious program underway to further improve our gender balance. |
These six themes represent areas where we can make the biggest contribution to sustainable development and simultaneously add maximize shareholder's value and our stakeholders through a combination of:
International sustainability standards, guidelines, sector specific sustainability initiatives, and ESG ratings
The world's Sustainable Development Goals
The Saudi Vision 2030 and other national guidance such as the Private Sector Development Program, and other government commitments such as its Net Zero commitments
The direct views of our key stakeholders, including but not limited to local and international and potential issuers and investors, employees, suppliers and business partners, and the public.
The ESG focus of our global exchange group peers, and their ESG performance levels.