1st Dual Listing and Concurrent IPO of a Non-Saudi Company on the Saudi Exchange
The Saudi Tadawul Group achieved a major milestone in 2022 when Americana Restaurants International PLC (Americana Restaurants) dual listed on both the Saudi Exchange and Abu Dhabi Exchange (ADX), signifying the growing maturity of the Saudi capital market.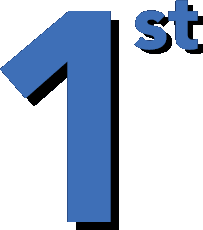 Dual Listing of a non-Saudi company on the Saudi Exchange with a market cap of over SAR 22 Bn (USD 6 Bn).
Concurrent IPO across two GCC capital markets – the Saudi Exchange and ADX, with Americana Restaurants raising SAR 6.8 Bn (USD 1.8 Bn) from retail and institutional investors on both marks.
A total of 820 million shares were traded across 97,000 trades for a total value traded of SAR 2.3 Bn across both Saudi Exchange and ADX providing significant liquidity across both markets.
With a value of USD 2.7 Tn as at end December 2022, Saudi Arabia's capital market is one of the strongest and fastest-growing investment destinations in the world, rapidly developing in terms of size, reach, liquidity and diversity, buoyed by the fastest growing economy in the world.
"Saudi Exchange" a leading position:

Over the last few years, the Saudi Exchange has implemented a range of initiatives to enhance the infrastructure of the Saudi capital market, further diversifying and broadening the opportunities available for market participants. A key initiative among these was the realization of dual listings, this critical milestone aims to open the Saudi market for non-Saudi issuers to access the largest exchange in the MENA region and help them achieve their strategic objectives.
The journey to our first dual listing: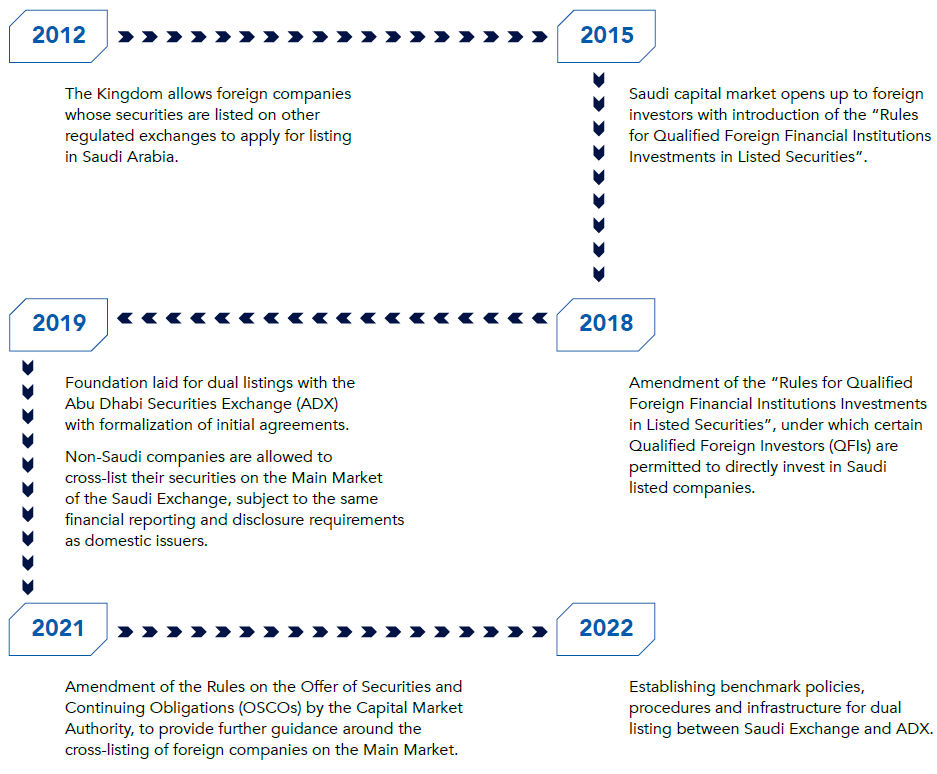 About Americana Restaurants International PLC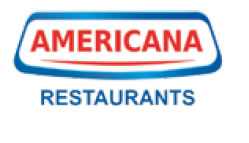 Americana Restaurants is the largest restaurant operator in the MENA region and Kazakhstan in terms of number of restaurants in its countries of operations. The Company operates iconic global brands such as KFC, Pizza Hut, Hardee's, Krispy Kreme and TGI Fridays, along with proprietary brands such as Wimpy and Chicken Tikka. The Company operates 2,183 outlets (as at December 2022) spread over 12 countries in the region including Saudi Arabia and the UAE, where Americana Restaurants operates 542 stores (22% of FY 22 sales) and 518 stores (30% of FY 22 sales) outlets respectively.
The Infrastructure Evolution
While the Saudi Exchange opened up to non-Saudi companies as far back as 2012, there has been no codified regulations nor infrastructure in place for foreign companies to cross list with an offering, which needed to be effectively addressed in order to ensure the success of our first ever dual listing.
The dual listing follows the introduction of several enhancements by the Saudi Tadawul Group over the years to ease access for regional and international investors to the Saudi capital market. With recent upgrades specifically to the post-trade infrastructure, the Securities Depository Center (Edaa) enables the smooth transfer of shares between the Saudi Depository Centre (Edaa) and Abu Dhabi Securities Exchange (ADX).
The Result
The listing was on 12 December 2022 and the opening bell at the Saudi Exchange was rung by Mr. Raid Abdullah Ismail, Board Member of Americana Restaurants accompanied by Mr. Mohammed Al Rumaih, CEO of Saudi Exchange. Americana Restaurants offered a 30% stake in the Company during this unique offering, and raised SAR 6.8 Bn (USD 1.8 Bn). The offering was high in demand from both institutional and retail investors, the volume of orders generated was SAR 394 Bn (USD 105 Bn), making the issue 58 times oversubscribed.
The daily price fluctuation limit of ±30%, which normally applies to newly listed companies on the Saudi Exchange, was not applied to Americana Restaurants' shares during the first three trading days. This was done to allow the share price to develop unhindered on both markets. However, from the fourth trading day onwards, Americana shares were subject to the normal fluctuation limits in both markets.
"The concurrent dual listing of Americana Restaurants on ADX and the Saudi Exchange marks a first-of-its-kind transaction. The successful conclusion of our IPO is the culmination of Americana Restaurants' transformational journey, as well as a remarkable milestone for the growth and depth of the region's financial markets. The extraordinary demand we drew from a geographically diverse investor base clearly demonstrates our new shareholders' confidence in our business, our extraordinary team, and our ability to deliver attractive long-term returns."
Mr. Mohamed Ali Rashed Al Abbar
Chairman of Americana Restaurants

Through the success of this flagship dual listing, we made significant progress in establishing Saudi Arabia as an advanced integrated capital market with a growing product offering, while expanding our regional, and global footprint through continued collaboration with international markets, to regulate and optimize our dual-listing processes.
In alignment with Vision 2030's Financial Sector Development Program, Saudi Exchange is committed to working alongside related authorities to improve procedures and simplify requirements for companies looking to list on the Saudi Exchange. This builds on the Exchange's vision to elevate its position locally, regionally, and internationally, as a lucrative destination for investors and issuers.
"We congratulate Americana Restaurants on its successful dual listing on the Saudi Exchange and ADX. Over the last few years, the Saudi Exchange has implemented a range of initiatives to enhance the infrastructure of the Saudi capital market. The dual listing of Americana Restaurants is the first of its kind to take place on the Saudi Exchange, paving the way for other non-Saudi issuers to offer their shares and list on the Saudi Exchange, contributing to further diversification and broadening of the opportunities available in the Saudi capital market."
Mr. Mohammed Al Rumaih
CEO of Saudi Exchange