The Securities Depository Center Company "Edaa", works to develop infrastructures and procedures to execute transactions in alignment with international standards. It also aims to enhance the efficiency of securities deposit and registration services in alignment with Saudi Vision 2030 by developing a more resourceful environment that fosters excellence within all capital market sectors.
VISION
POST-TRADE SERVICE PROVIDER OF CHOICE, BUILDING BRIDGES BETWEEN ISSUERS AND INVESTORS, DOMESTICALLY AND INTERNATIONALLY INSTITUTION.
MISSION
OFFER INNOVATIVE AND TRUSTED POST-TRADE PRODUCTS AND SERVICES IN LINE WITH HIGHEST INTERNATIONAL STANDARDS THAT CREATE VALUE FOR CLIENTS.
Key Activities and Services
Operating and maintaining the Depository and Settlement System (DSS)
Other value added services such as, management of issuers' general assemblies (AGM) including remote voting services (e-Voting), reporting, notifications, and maintenance of critical core data

As the Group works to position Saudi Arabia into an international investment destination of choice, Edaa's role as the Group's securities depository center company remains integral in increasing access to the Saudi capital market, and enhancing opportunities for existing and potential investors and other market participants.
With depository considered a key pillar of the Group's new strategic framework, Edaa through its DSS system continued to maintain records of securities and their ownership. We facilitate a range of securities including equity, debt, Sukuk and bonds, ETFs, REITs, and mutual funds, and provide other management services including management of issuer's general meetings, e-voting, reporting and notifications.
We seek to improve access to the Saudi market by introducing linkages with foreign depository centers and by investing in associated infrastructure, to attract an increasing number of international investors.
We have brought in a number of substantial market enhancements during 2022, including a new central securities depository system. These significant infrastructure upgrades carried out as part of the Post-Trade Technology Program (PTTP) to align our depository with international financial markets infrastructures, and enhances the market experience for participants are key factors that contribute towards attracting more investors to our market.
Edaa's PTTP enhancements include:
New central securities depository system and post-trade services in alignment with international standards
Straight-through processing of ISO messaging
Daily and adhoc reconciliation and reporting of participants
An increasingly sophisticated post-trade infrastructure provides investors and market participants with a wide range of investment opportunities and enables access to new and diversified financial instruments, to manage risk and benefit from market movements. Notably, it enhances services for entities such as capital market institutions and banks.
Within our clear strategic purpose, Edaa successfully completed a number of other functional projects. We have reformed the National Debt Management Centre (NDMC) issuance process by activating the issuer agent role and implementing the Delivery versus Payment (DvP) and Free of Payment (FoP) settlement mechanisms. We have also extended the settlement cycle for failed trade from T+2 to T+8, to increase the effective delivery of trades to clients.
A number of promising developments resulted from the links we nurtured and strengthened with other exchanges and International Central Security Depositories (ICSDs) over the past few years, including the MOUs signed with Abu Dhabi Securities Exchange (ADX). These agreements laid the groundwork for us to enter into cross listing during 2022, with the first dual listing on Saudi Exchange and ADX – where Americana Restaurants International PLC floated 30%, or 2.527 billion shares of its capital in a dual IPO. Edaa's contribution to this listing has been pivotal, through the establishment of our first investor SDC link, enabling the crucial daily realignment function between the two markets.
Earlier in 2020, an MOU was signed between Edaa and Clearstream (the post-trading services provider of Deutsche Börse Group), to facilitate access for investors in Saudi Arabia through cross-border links. This agreement commenced live operation in 2021, and was followed by the signing of another MOU in October 2021 with Euroclear Bank to foster links between the two depositories and enhance access for investors. This agreement went live in 2022.
Apart from giving investors direct access to the Saudi Capital Market, the MOUs with Euroclear Bank and Clearstream represent another area of important strategic achievement; Through this linkage with Edaa, Euroclear and Clearstream's eligible international investors will be able to invest directly in non-convertible debt instruments listed on the Saudi Exchange's Sukuk/Bonds Market without obtaining Qualified Foreign Investor (QFI) status.
Additionally, Edaa signed a Memorandum of Cooperation with Muscat Clearing Depository. This will be highly valuable in strengthening the relationship between the two companies. We will exchange experiences and information, and work together to develop the central depository in the two countries.
There are a number of particular transactions through the year to highlight:
Successfully processed large IPO upload files:

Almasane Alkobra Mining, with 450,727 subscribers
Elm Co, with 406,726 subscribers
Aldawaa Medical Services Co. with 372,314 subscribers
Saudi Home Loans Co. with 215,626 subscribers
Alkhabeer Growth Income Traded Fund with 174,785 subscribers

Successfully processed large corporate actions post Go-live:

ARAMCO capital increase
Al Rajhi capital increase
Saudi Industrial Investment Group and Petrochemical Co. acquisition
CA Cash Dividend newly introduced in NCSD with 83 executed corporate actions
Completion of transfer related to investor's securities from HSBC Saudi Arabia to Alawwal INVEST Company
Other developments include:
An upgrade of Edaa's Overall Risk Rating from "A" to "A+" with a Stable Outlook from global risk intelligence company Thomas Murray. The revision comes following several enhancements by the Group, including removal of pre-funding requirements, the introduction of a central counterparty in the cash market, via Muqassa, and the recent roll-out of enhancements to improve trade and post-trade services, including expanded settlement over three daily batches and buy-in facilities.
The publication of the first SDC Questionnaire in partnership with the Association of Global Custodian (AGC) which covers several topics such as settlement, ownership, participation, etc. and functions as a repository for those looking to enter the Saudi capital market.
The formalization of a new SLA with SAMA as part of post-trade program. Due to changes in the settlement process this was needed to govern new cash settlement process.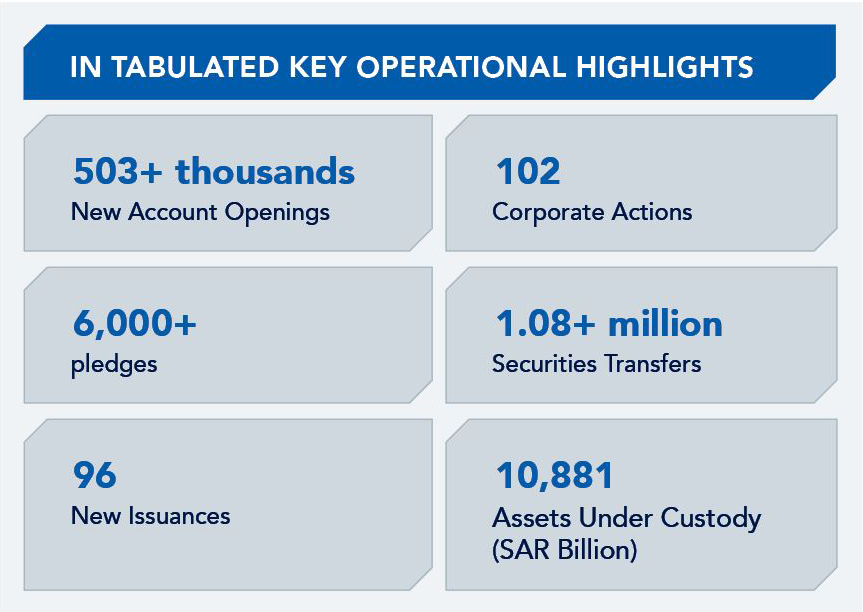 Numerous other developments lie ahead. A key element of the Kingdom's Vision 2030 is to bring international investors into our capital market. As the linkages with Clearstream and Euroclear build on the growing international realization of the value of access to the Saudi debt markets, we are committed to capitalizing on this tide of interest by continuing to invest in our infrastructure and systems. Moreover, we will reach out directly to foreign investors to better understand their needs, and to further improve their market experience.
With these commitments in place, Edaa has been reviewing its strategy through the second half of the year.The result is a new and ambitious growth plan. Elements of this include expanding the asset reach in Saudi Arabia, enhancing our capabilities as an asset servicing provider, and undertaking well thought-out steps to become a regional market player.