As a centralized operation within the Saudi Tadawul Group, our role is to concisely communicate the principles and strategy of the Group and its subsidiaries, while creating awareness of their role in the development of the Saudi capital market among local, regional and international audiences.
At the onset of 2022, we established three communications priorities. The first and most crucial was to establish the Group's reputation as a listed company; to leverage the synergies across the Group's subsidiaries to accelerate the realization of its growth objectives, and to engage with key stakeholders through new and accessible modes of communication.
To establish the Group's reputation as a listed company, and as an exemplary benchmark for financial disclosures, we quickly adapted to substantially distinct guidelines, responsibilities and measures for financial communications. All such requisite financial communications, disclosures and material announcements are managed via close alignment between our team and Investor Relations Department as they emerge, all according to well-defined strategic objectives.
We were equally active in establishing and better communicating the Group's synergies during 2022, aside from their collective contribution to developing the Saudi capital market.
We also introduced new modes of communication to engage with our key stakeholders, in the form of a new Listings Report and Capital Markets Report. These two new reports, in addition to our monthly newsletter, provide in-depth information about the performance of the Saudi capital market for investors and issuers alike. Our objective with each of these, as in other publications, is to remain accessible to investors, and to share relevant achievements and performance updates.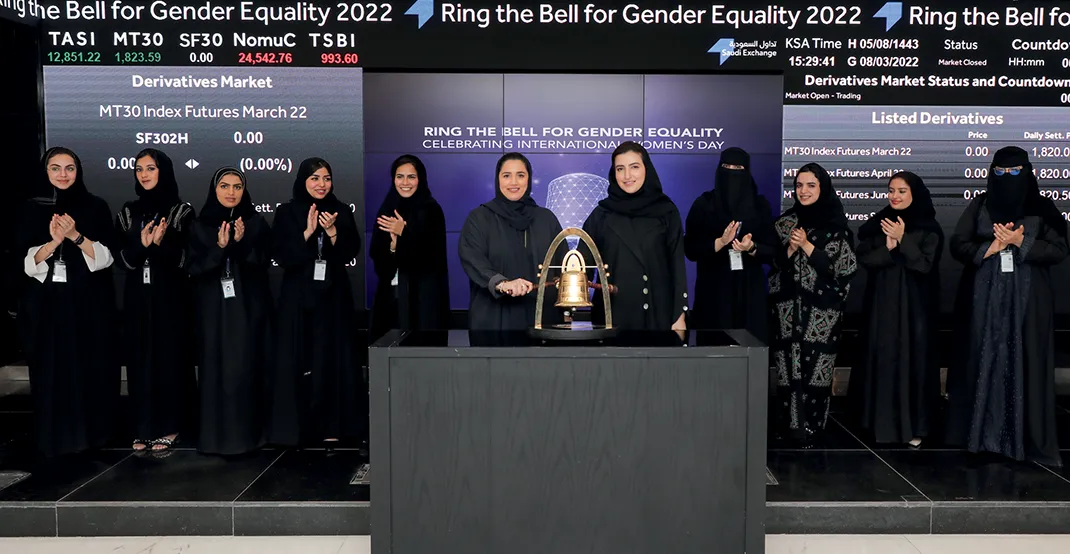 Establishing the Group's reputation as a listed company, leveraging synergies across its subsidiaries to accelerate growth objectives, and engaging with key stakeholders are among our top priorities this year.
Articulate actions
Both variety and effectiveness of Group announcements were evidenced throughout the year. In terms of project announcements, we successfully launched Single Stock Futures – the second product in the Saudi derivatives market – backed by comprehensive media coverage across both traditional and digital media channels. We are currently managing a campaign to communicate cross-listing opportunities and advantages to local, regional and international issuers. During the year, we also launched the Saudi Capital Market Forum, a one-day event that was widely covered media outlets in the region. During the event, we announced the largest set of post-trade enhancements in the history of the Saudi capital market – a milestone that was equally well reported across media and social media channels.
Post-communication assessment is crucial. We conduct a comprehensive survey at year-end to review effectiveness of reach and audience responsiveness, correlating the data obtained as a basis for learning and future adaptation, and assessing achievement according to our overall plan and individual objectives.
One of the key topics falling within the compass of our core function, is communicating the importance of environmental, social and governance (ESG) disclosures among our stakeholders. As we develop a market that is at par with global peers, our Organization's commitment to advancing the adoption of ESG principles across the Saudi capital market was cemented with the publication of ESG Disclosure Guidelines for issuers, which we promoted during 2022 through a range of initiatives including issuer webinars.
We are also active in communicating Group Corporate Social Responsibility (CSR) actions and have a specific CSR program with several initiatives, the latest being focused on wellness. Examples include our engagement in the White Stick project to raise awareness among employees for the visually impaired community, and engagement with support for differently abled children.
Other initiatives included supporting organizations such as the CFA Institute in its goal of raising public financial literacy, involvement with strategies focused on empowering women, and conducting a campaign to showcase leadership within the Group by giving employees opportunities to speak on their own and team achievements.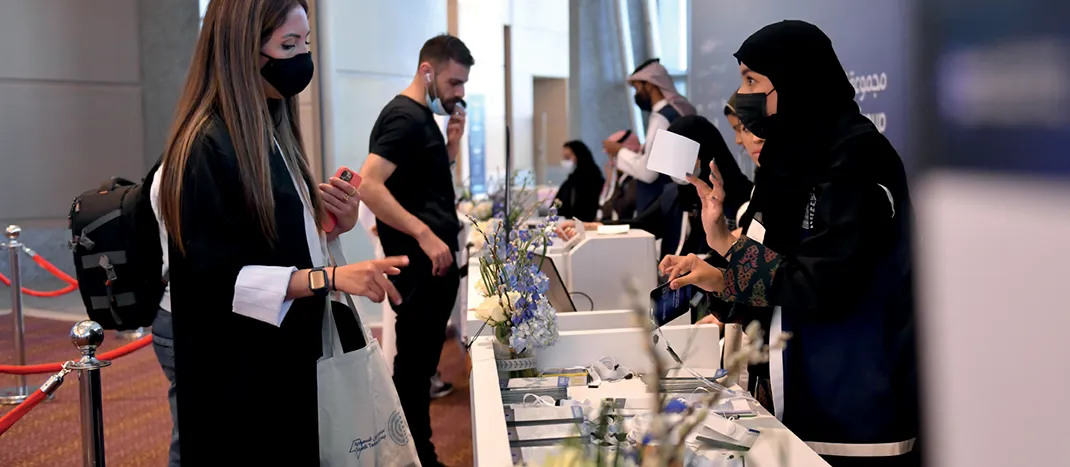 Corporate Strategy Support
The Corporate Communications Division managed, monitored and controlled over 60 projects and initiatives, and generated several reports for project steering committees. We have also engaged with subsidiaries apart from communication and project engagements, to align on communication plans and activities.
We keep close alignment with Group corporate strategy to ensure consistency between the Corporate Communication activities and the corporate strategy. Communication is, after all, a vital tool in strategic achievement, and such is our role in contributing to the advancement of the Group's corporate strategy.